When a visitor visits your website chances are they used their smart phones or other mobile devices to discover your website. Yes majority of the digital media is now accessed through mobile devices across the globe. According to study by ComScore, mobile has already taken over desktop. Total activity on mobile devices such as, smartphones and tablets, account for 60 percent of the total digital media time spent in the Unites States.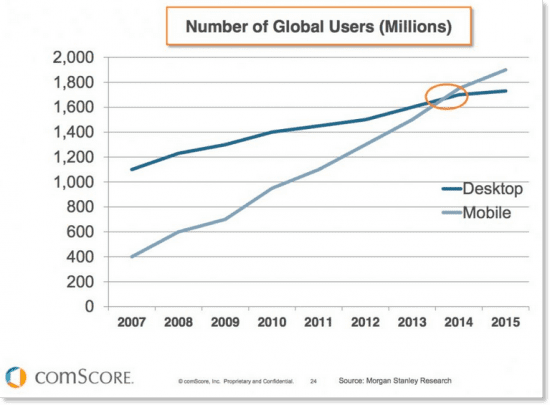 So mobile marketing is no more a choice, it has become an integral part of any online marketing agenda. The first point of contact between your brand and the prospective customers is your mobile website, so it is necessary that you design the website in a way to offer the best user experience.
Web designers still use the approach of scaling down a desktop website to its mobile version by making it responsive. To create an impressive mobile website it is required that you create a website dedicatedly for mobile devices and then scale it up to the desktop version if necessary. This is known as the 'Mobile First' approach and the best one to cater to your mobile users.
To determine which approach suits your business goals, you need to check the analytics for your website first. The analytics will give you insights about the source from where the visitors come from – desktops/ laptops or mobile devices. Depending upon the findings, you need to plan your web design strategy.
Mobile Web Design Best Practices
To reach out to maximum number of targeted audience, you need to design your website in a way that works across several mobile platforms. The biggest challenge about mobile web designing in 2016 is that mobile devices are available in myriad of sizes, variants and they use various.
So to offer the best user experience you need to design a website that works seamlessly across various devices. Mobile designing is more about the fluidity and usability unlike desktop designing that requires pixel perfection. To ensure you are able to do so, here is a list of mobile web design best practices that will help you design the most appealing mobile website:
1. Understand the Difference between Mobile and Desktop Users
The user behaviour differs considerably on a mobile device compared to desktops. Mobile users use their devices to browse various sites rather than make purchases. To improve conversions on your mobile website, it is therefore important to capture the interest in a more appealing manner than just placing a call-to-action like "Book Now" or "Buy Now."
Features like clickable phone numbers or providing the email address only to get registered, are helpful to capture user attention and transform them into leads.
2. Navigation and Content Placement
The key to successful user experience on mobile is time, functionality and visibility. Mobile users are time constrained so it is essential that you place the information in an easy to find way, make the major features such as tabs and buttons, clearly visible and make sure the website is highly functional so that it offers an app like experience.
You also need to determine what elements to appear first to make the mobile experience better. For instance, if you have a mobile travel site, you should place the trip finder elements on the topmost panel. Placing all the important elements strategically will help the visitors find the desired information quickly. Remember simplicity is the key to a perfect user experience. Avoid using multi-level menus and use a simple navigation structure.
3. Flexible Layout Designs
Mobile devices are available in a number of dimensions, so keeping the layouts flexible will ensure that the website adjusts itself seamlessly to devices of all dimensions. Making your website work equally on all mobile devices and on all mobile OS will help you make the most of your targeted mobile users.
4. Minimal Images
The lesser images and special effects you use, the better it will be. Lesser images mean the website will load faster. Instead you can explore the innovative possibilities with CSS coding. It is also time to say goodbye to the practice of using fancy texts as images. Use fancy fonts to achieve similar effects. The infographics below will help you understand how exactly the loading time can affect the conversion rate for your mobile website.
If the loading time of your mobile website is high, visitors will abandon your site and never come back. Most of us tend to overlook this aspect of mobile web designing. Here are some metrics that will create a sense of urge if you haven't yet considered this:
47 percent of online consumers expect the mobile pages to load within 2 seconds or less – KissMetrics
73 percent of consumers reported they came across websites that were too slow to load. – KissMetrics.
40 percent of consumers abandon a website if it takes longer than 3 seconds to load – KissMetrics.
5. Ask for Important Information Only
For desktop websites, it is perfect to include registration forms to get information, but when you are designing a mobile website, keep forms to the minimum. Not everyone can afford a tablet or smart phone with a large screen and the average smartphone has a small screen with a smaller virtual keyboard.
The keys of an average smartphone are barely 5mm x 5mm in size, thus typing can be very difficult. So if you want to get information from your users, design a form differently for your mobile website that asks only for specific information. Use auto-fill features for common field like name, email, etc. Also make sure the 'submit' and 'reset' buttons are fairly sized, so that the user does not have any problem submitting/ resetting the form.
Conclusion
Finally, it is very important to maintain consistency throughout your website. Make sure the entire website offers seamless experience throughout the journey of the consumer. The key to success for your mobile website is to understand the behaviour of your target audience and designing it accordingly.
Strategically place the all the major elements of the website to make information easily available. Remember, an amazing website does not mean cluttering it with numerous design elements; rather it keeping it simple and clutter-free is the secret to outstanding user experience. So implement the mobile web design best practices to design an exceptional mobile website.